Xirrus XR-4430 Wireless Array
The Xirrus XR-4430 Wireless Array is the first modular Wi-Fi product of its kind featuring upgradability, high scalability, high performance and integrated security to economically serve today's requirements without sacrificing for tomorrow's demand.

The XR-4430 Arrays deliver 4x the coverage, up to 8x the bandwidth and user density compared to legacy thin AP solutions. This equates to 75% less equipment, cable runs, and switch ports - resulting in a significant reduction in installation and ongoing management efforts compared to competitive solutions.
At A Glance

Configurable with 4 multi-state radios (2.4GHz and 5GHz)
450Mbps Multi-State (2.4GHz or 5GHz)
WiFi bandwidth upto 1.8Gbp
Field upgradable to more radios or new technologies
Benefits:
Upgradable
Adapt to changes in business requirements with the ability to upgrade across Xirrus XR-4000 Arrays. Deliver a solution with a true 5 year life cycle that can incorporate new technologies as they come to market without starting over.
Scalable
Maintain a high level of performance for mission-critical applications and support the ability to handle unpredictable user growth throughout your Wi-Fi network. Scale the number of users by adding radios and scale capacity by increasing the network traffic throughput without installing additional devices.
Secure
Eliminate potential gaps in security infrastructure with the Xirrus XR-4000 series integrated firewall, threat sensor and spectrum analyzer providing comprehensive security without the need for additional equipment.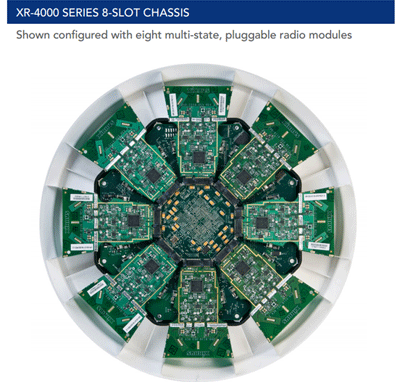 Xirrus XR-4430 Wireless Array - Technical Specifications
RF Management
In-band per IAP Spectrum Analysis

Dynamic channel configuration

Dynamic cell size configuration

Monitor radio for threat assessment and mitigation

Wired and wireless packet captures (including all 802.11 headers)

Wired and Wireless RMON / Packet Captures

Radio assurance for radio self test and healing

RF monitor
High Availability
Supports hot stand-by Array for mission critical area
Environmentally Friendly
Supports ability to turn off radios based on schedule configuration
Wireless Protocol
IEEE 802.11a, 802.11b, 802.11d, 802.11e, 802.11g, 802.11h, 802.11i, 802.11j, 802.11
Wired Protocols
IEEE 802.3 10BASE-T , IEEE 802.3.u 100BASE-TX , 1000BASE-T, 802.3ab 1000BASE-T

IEEE 802.1q - VLAN tagging

IEEE 802.1AX - Link aggregation

IEEE 802.1d - Spanning tree

IEEE 802.1p - Layer 2 traffic prioritization
RFC Support
RFC 768 UDP

RFC 791 IP

RFC 2460 IPV6 (Bridging only)

RFC 792 ICMP

RFC 793 TCP

RFC 826 ARP

RFC 1122 Requirements for internet hosts - communication layers

RFC 1542 BOOTP

RFC 2131 DHC
Security
WPA

IEEE 802.11i WPA2, RSN

RFC 1321 MD5 Message-digest algorithm

RFC 2246 TLS protocol version 1.0

RFC 3280 Internet X.509 PKI certificate and CRL profile

RFC 4347 Datagram transport layer security

RFC 4346 TLS protocol version 1
Encryption Type
Open, WEP, TKIP-MIC: RC4 40, 104 and 128 bits

SSL and TLS: RC4 128-bit and RDA 1024 and 2048 bit
Authentication
IEEE 802.1x

RFC 2548 Microsoft vendor-specific RADIUS attributes

RFC 2716 PPP EAP-TLS

RFC 2865 RADIUS Authentication

RFC 2866 RADIUS Accounting

RFC 2867 Tunnel Accounting

RFC 2869 RADIUS Extensions

RFC 3576 Dynamic Authorizations extensions to RADIUS

RFC 3579 RADIUS Support for EAP

RFC 3748 EAP-PEAP

RFC 5216 EAP-TLS

RFC 5281 EAP-TTLS

RFC 2284 EAP-GTC

RFC 4186 EAP-SIM

RFC 3748 Leap Passthrough

RFC 3748 Extensible Authentication Protocol

Web Page Authentication




• WPR, Landing Page, Redirect




• Support for Internal WPR, Landing Page and Authentication




• Support for External WPR, Landing Page and Authentication
Regulatory Compliance
CE Mark

Safety:




• UL 60950-1:2003




• EN 60950:2000




• EMI and susceptibility (Class A)




• U.S.:FCC Part 15.107 and 15.109




• Canada: ICES-003




• Japan: VCCI




• Europe: EN 55022, EN 5502
Physical Specifications
Dimensions (WxDxH): 2.5 x 12.25 x 12.25 in.

Weight: 2.6lbs
Environmental Specification
Operating Temperature: 0-55C, 0-90% humidity, non-condensing
Channel Support 2.4GHz
1 2 3 4 5 6 7 8 9 10 11 12 13 14
Channel Support 5GHz
UNI I - Non-DFS channels

36 40 44 48

UNI I DFS channels

52 56 60 64

UNI II DFS channels

100 104 108 112 116 120 124 128 132 136 140

UNI III Non-DFS channels

149 153 157 161 165
Xirrus XR-4000 Comparison
| | | | | |
| --- | --- | --- | --- | --- |
| Product | XR-4420 | XR-4430 | XR-4820 | XR-4830 |
| Chassis Size | 13" | 13" | 13" | 13" |
| Total Radio Slots | 8 | 8 | 8 | 8 |
| Populated 802.11n Radios | 4 | 4 | 8 | 8 |
| Radio Type | 300Mbps Multi-State (2.4GHz and 5GHz) | 450Mbps Multi-State (2.4GHz and 5GHz) | 300Mbps Multi-State (2.4GHz and 5GHz) | 450Mbps Multi-State (2.4GHz and 5GHz) |
| Maximum Wi-Fi Bandwidth | 1.2Gbps | 1.8Gbps | 2.4Gbps | 3.6Gbps |
| Dedicated Wi-Fi Threat Sensor | Yes | Yes | Yes | Yes |
| Integrated Antennas | 8 | 12 | 16 | 24 |
| Max Wi-Fi Backhaul | 1.35Gbps | 1.35Gbps | 1.35Gbps | 1.35Gbps |
| Integrated Wi-Fi Switch Ports | 8 | 8 | 8 | 8 |
| Gigabit Ethernet Uplink Ports | 2 | 2 | 2 | 2 |
| Maximum Associated Users | 960 | 960 | 1920 | 1920 |
| Radio Interface | 2.5Gbps PCI-Express | 2.5Gbps PCI-Express | 2.5Gbps PCI-Express | 2.5Gbps PCI-Express |
| Maximum Power Consumption | 33W | 38W | 45W | 50W |